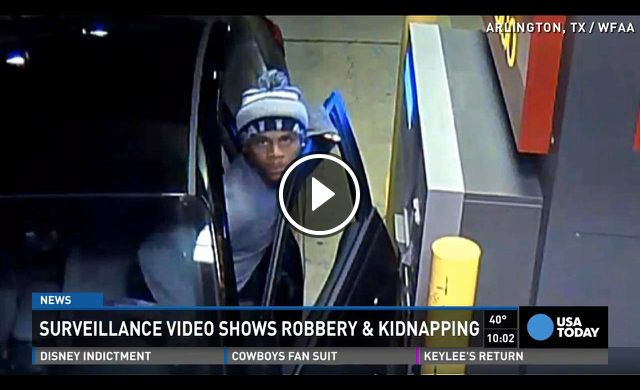 Chilling surveillance video shows a 21-year-old woman forced into her own trunk by an armed robber at a drive-through ATM
USA TODAY (January 23, 2015) – The incident happened last Wednesday at the Wells Fargo near Interstate 30 about 1:30 a.m. in Texas.
The victim, who WFAA-TV has chosen to only identify as Christin, drives up in her three-week-old Kia. She inserts her ATM card, begins a transaction, then looks around in her front seat as the machine starts.
The robber circles around the back of the ATM, then surprises her holding a cell phone in one hand and a gun in the other. He takes her cash and her new car. But first, he forces the young woman out, walks her to the back of the car and orders her to climb into the trunk.
The only witness is an Arecont Vision MegaDome® 2 camera which caught the young man staring directly into the lens.
On Thursday, police released the video showing the robber order the victim out of her car at gunpoint and then force her into her own trunk. The good quality of the video is something investigators hope helps capture the criminal.