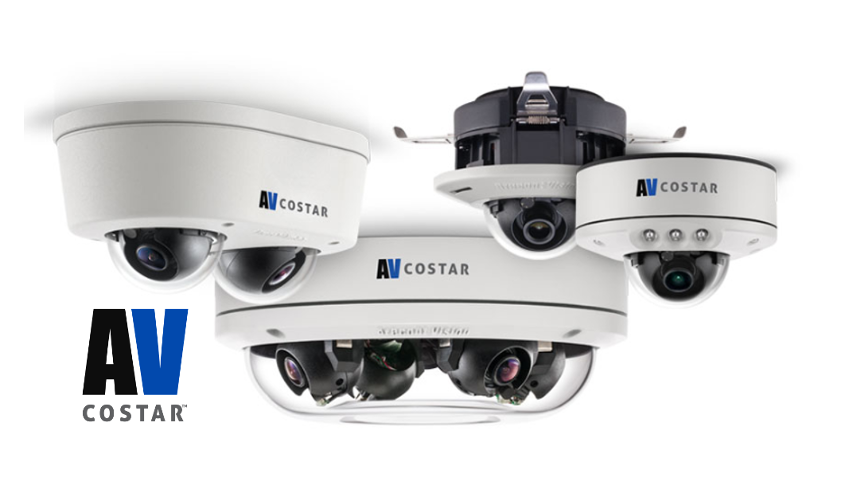 New ConteraIP Cameras include the latest network stack & capabilities while leveraging award-winning MegaIP configurations perfected over the last decade

Anyone who has watched or participated in the surveillance industry since 2003 likely knows that AV Costar and our predecessor business (Arecont Vision) have long been envied and often copied for our product designs, features, and form factors.  We've delivered a lengthy and still growing series of industry firsts for products and capabilities that were unheard of at one time, but are now common across video surveillance today.  It's complementary in a very real sense, another way of recognizing our industry leadership. It also helps to keep our entire team focused on continuous improvement of our products, features, reliability, and customer support in order to retain our leadership role.
Some vendors claim that they are industry leaders in product innovation as well.  When you hear a statement like that, regardless of the size of their business, ask for proof to determine if they really are leaders or merely copycats in video surveillance.  In our case, here's a quick review of a bit of AV Costar's heritage. We follow up that discussion with several exiting new products that build upon our innovation successes and now deliver increased performance and reliability, thanks to a whole new internal architecture.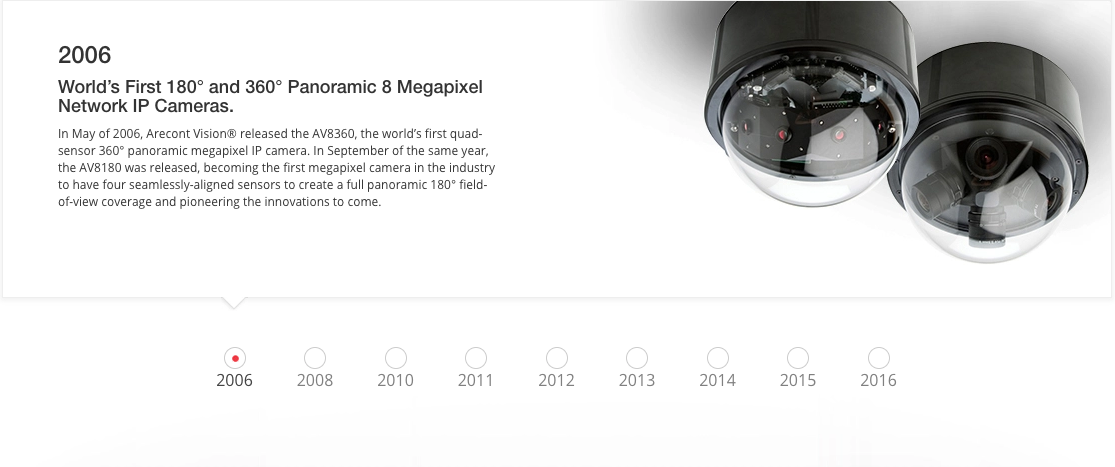 Among other achievements, we pioneered, engineered, & supported the industry's first panoramic 180 degree multi-sensor cameras beginning in 2006, the first omnidirectional/adjustable view multi-sensor cameras back in 2014, and the first fully remote-setup multi-sensor omnidirectional cameras in 2018 with the Made in USA MegaIP series SurroundVideo Omni G3.  All have helped AV Costar earn an impressive collection of industry awards and – most importantly – customers and partners who trust and deploy our cameras around the globe.

This time around is unique, with a manufacturer again copying our designs and concepts… but for once we're doing it to ourselves!  We've developed and implemented multiple camera designs, form factors, and configurations to support customer needs in a wide range of environments since our predecessor company started all this pioneering work back in 2003.  And now, we're helping customers to benefit from all that effort and experience in a whole new way.
We demonstrated the then-pending next generation of our advanced omnidirectional camera technology at last fall's GSX 2019 conference. The ConteraIP® Omni LX Remote Setup camera builds upon the success of the original SurroundVideo Omni G3, adding the 2nd generation of the remote setup capability.  The Omni G3's remote setup feature has been available to customers since 2018 and the camera remains one of our top sellers.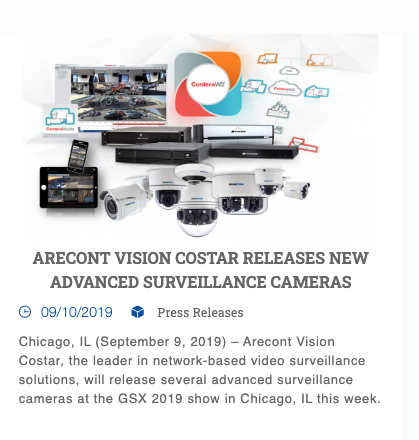 The Omni G3's continued success comes largely because the camera pioneered remote setup, offering great image quality, simple installation, and rapid project completion in a compact multi-sensor camera with adjustable views. The camera allows the installer to pick the view – 180, 270, or 360 degree coverage defaults – right out of the box, then lets them adjust the view to their specific requirements. The installer simply hangs the camera using the unique hinged installation plate system we developed, plugs in the single PoE cable, and then locks it into place.
No need to attempt to balance a laptop while on top of a ladder or lift while setting up the camera.  Instead, the installer is able to do the full setup process entirely from the safety of the ground… or anywhere with access to the network. That makes it faster and safer to install, saving the installer and the customer both time and money.  And if the focus or view ever need adjusting, or a completely different sensor layout is desired, it's done entirely over the network without any need to physically touch the camera.
The new ConteraIP Omni LX Remote Setup is now shipping, and leverages the second generation of the technology implemented in the popular SurroundVideo Omni G3. The Omni LX RS is built with very similar mechanicals while adding the new ConteraIP network stack and sensors for improved image quality, increased reliability, higher performance, and even more capabilities and features.  Like all of our ConteraIP multi-sensor cameras, the Omni LX RS supports up to 30fps per sensor, and includes H.265 with SNAPstream+™ technology, enhanced WDR for challenging lighting conditions, and NightView™ color low light technology. Just as with our original Omni family members, the new Omni LX RS supports ONVIF and is National Defense Acquisition Act (NDAA) compliant.
And the industry recognition keeps coming: the Omni LX RS received two industry awards earlier this month.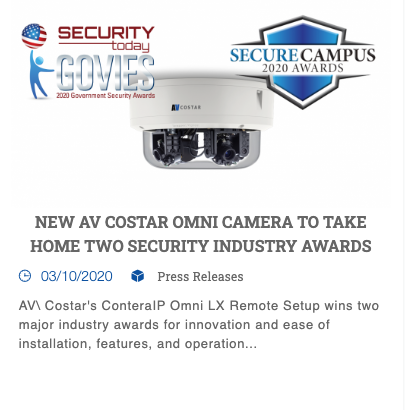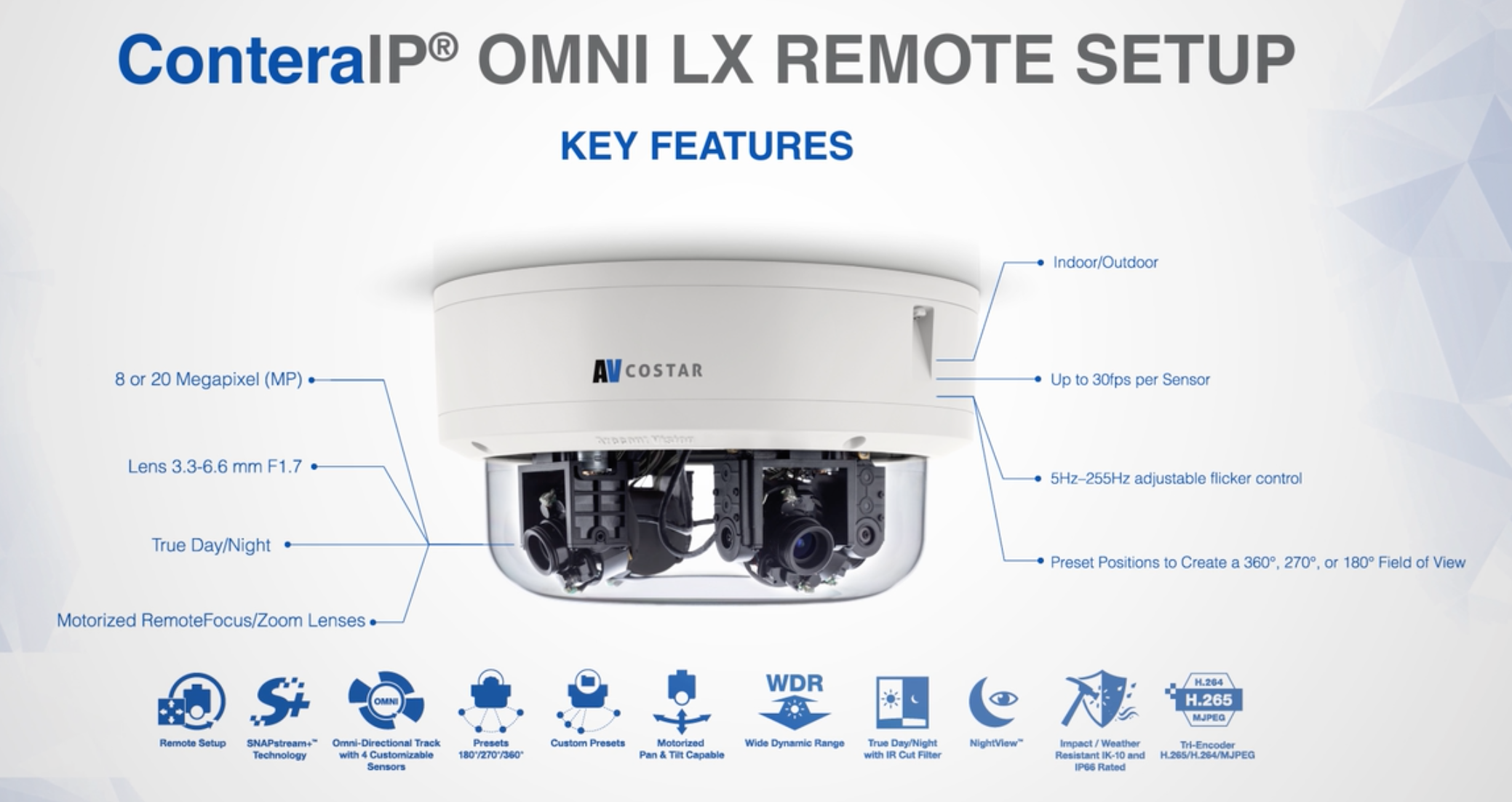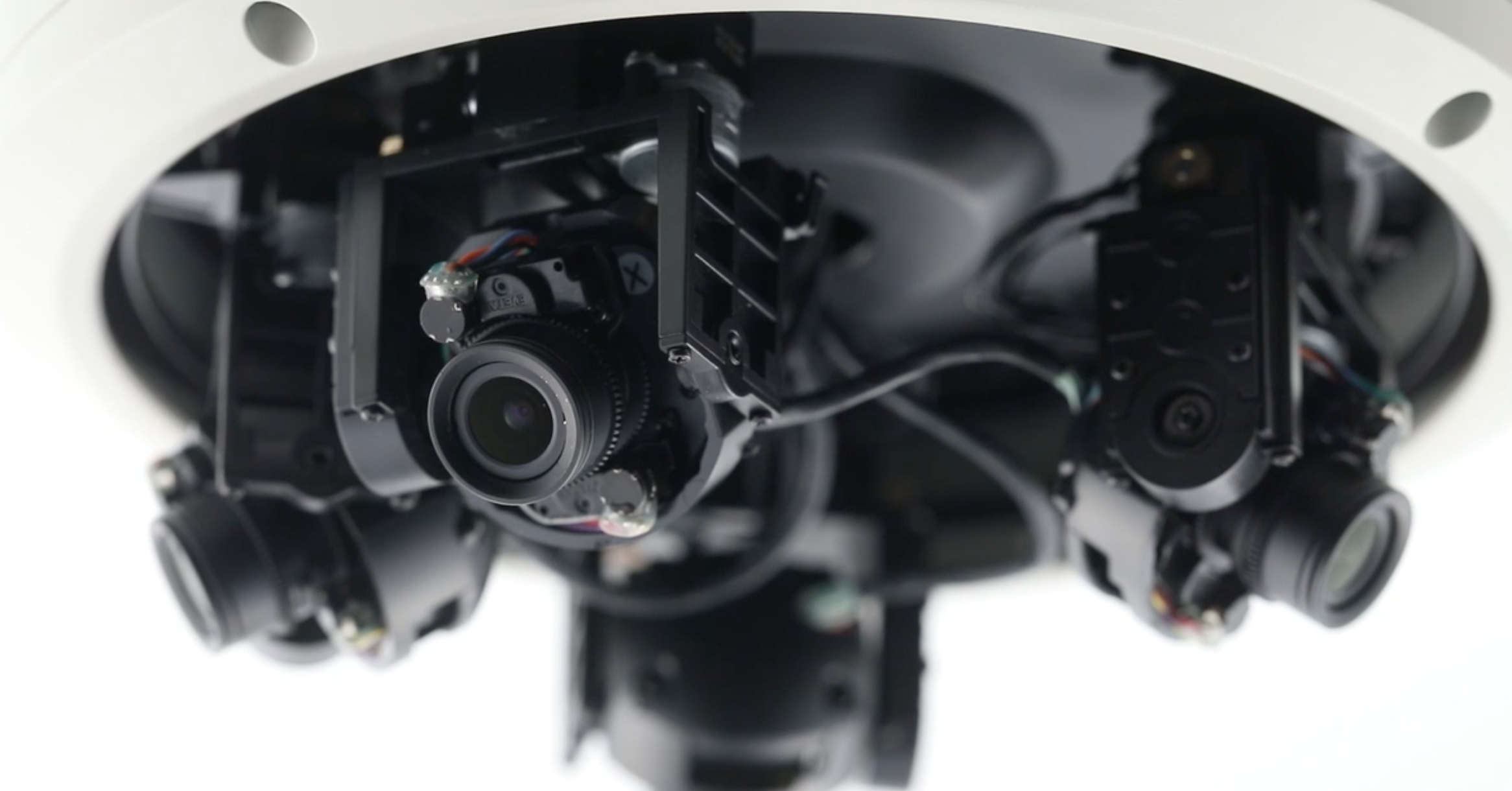 We've also unveiled a less expensive Omni addition to the ConteraIP multi-sensor family, a pair of very small single sensor cameras with big capabilities, and an advanced twin-sensor model. All are built on years of success with similar form factors in the proven MegaIP series, while adding the next generation technology of the ConteraIP series. We are expecting these models to join the lineup in June, 2020.
As VP of Product Development Brad Donaldson commented in our March 16th product unveiling press announcement, "We've taken the most in-demand form factors from our proven MegaIP single, dual, and multi-sensor camera families to bring similar choices to our expanding ConteraIP series. The series will now address an even wider variety of challenging customer requirements as these new NDAA-compliant cameras roll out in coming weeks."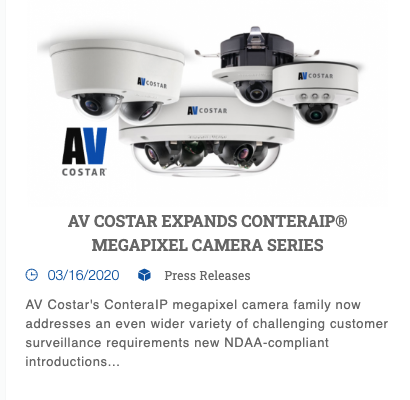 Let's next take a quick look at each of the upcoming models.
The newly unveiled ConteraIP MicroDome LX offers customers the choice of indoor ultra-low profile flush mount, easy install models for discreet surveillance or compact surface mount versions for indoor/outdoor use. Indoor models feature a built-in microphone, while the outdoor MicroDome LX includes integrated IR illuminators. All MicroDome LX cameras deliver up to 30fps megapixel video and include a motorized remote focus lens for rapid setup, with choice of 1080p (2.1MP) or 5MP resolution.  Both cameras are based on the popular MegaIP series MicroDome® camera mechanicals with a new generation of ConteraIP single-sensor camera capabilities and lens.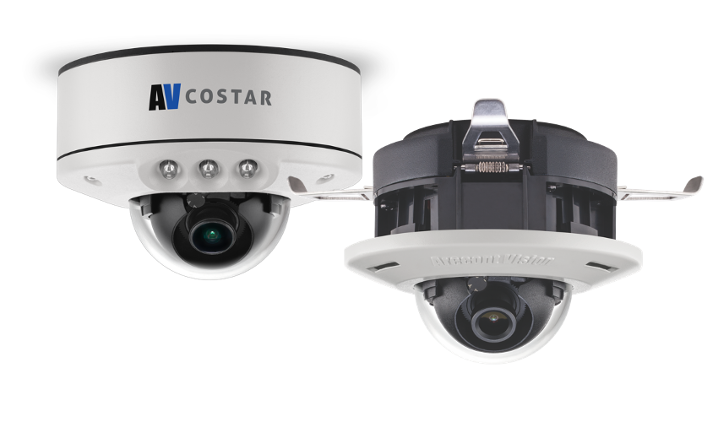 Another important new model is the ConteraIP MicroDome Duo LX. This form factor offers twin, independent domes each with motorized remote focus lens, and each capable of up to 30fps of megapixel video. The Duo LX is ideal for the same indoor/outdoor applications as its mechanically similar brother – the MegaIP MicroDome Duo. Popular deployments are for coverage of hallways, walkways, and corners, or for monitoring ATMs or POS terminals where a 4-sensor Omni or panoramic camera may not be suitable. The compact platform brings models with 4 (2x1080p), 10 (2x5MP), or 16 (2x8MP) megapixel resolution choices, each with twin remote focus motorized lenses and the new ConteraIP internals.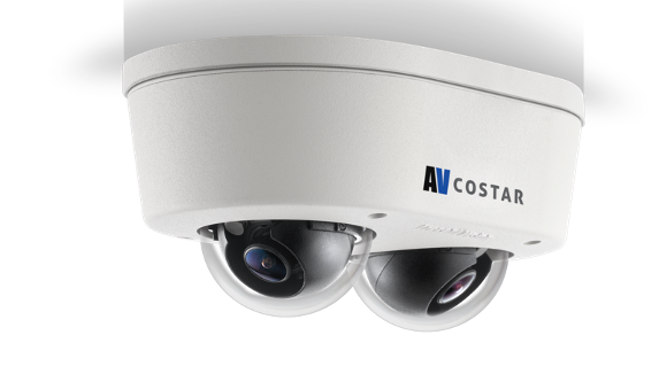 AV Costar continued to build upon its legacy of surveillance industry leadership in adjustable-view multi-sensor models with the unveiling of the new ConteraIP Omni LX. This highly flexible remote-focus camera series offers 4 high resolution megapixel sensors with motorized remote focus lenses for easy installation and setup. It's built around the same mechanicals as the robust and reliable SurroundVideo Omni SX compact, low profile multi-sensor from the MegaIP family. Like the SX, the upcoming Omni LX supports ONVIF and is NDAA compliant. The Omni LX is less expensive option than its big brother, the Omni LX Remote Setup, as it does not include remote setup capability, but employs all the same advanced ConteraIP technology inside to deliver high frame rates supported by multiple new capabilities with increased long-term reliability.
Omni LX will offer the choice of 8 (4x1080p) or 20 (4x5MP) megapixel resolution with the customer's choice of interchangeable lenses. Each sensor can be adjusted to the perfect individual view then remotely focused. The Omni LX delivers up to 360-degrees of non-stop coverage of virtually any scene for complete situational awareness.  The Omni LX reduces complexity and cost, using a single PoE IP cable, IP address, and VMS license (on most VMS systems) instead of multiples of each being required for individual single-sensor cameras.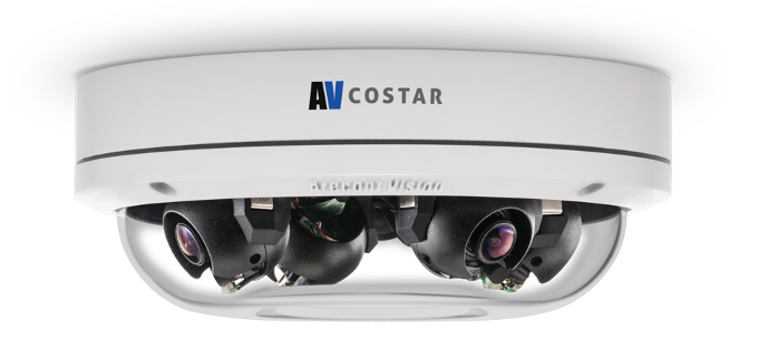 All ConteraIP cameras offer enhanced WDR up to 120db for varied lighting conditions, NightView™ low light technology, and H.265 with SnapStream+™ & M-JPEG support. Other common features are high frame rates, defog technology, on screen display, MicroSD card support (most models), and multi-streaming capability. Just as in the entire MegaIP camera family, the ConteraIP Omni LX Remote Setup and all four of the soon-to-be-shipping models include both NDAA (National Defense Authorization Act H. R. 2500) and ONVIF compliance, plus outdoor models are IP66 environmental and IK10 impact resistance rated.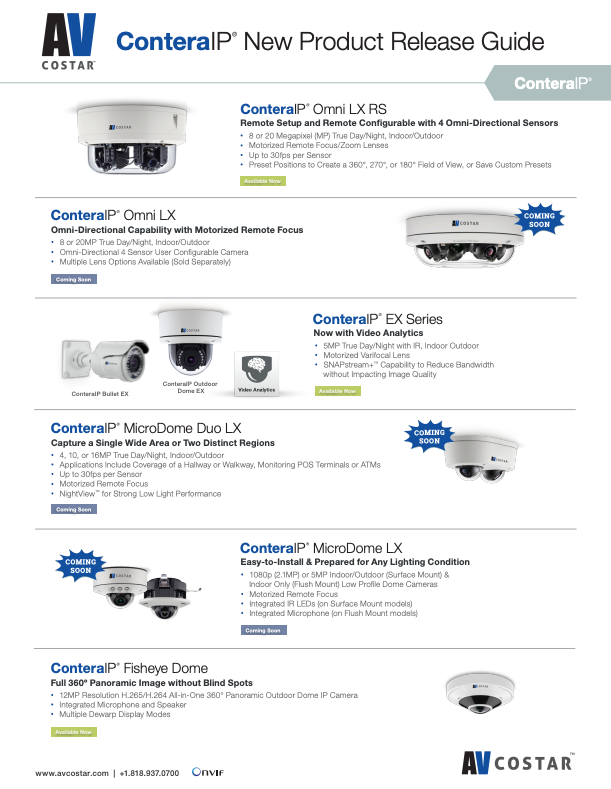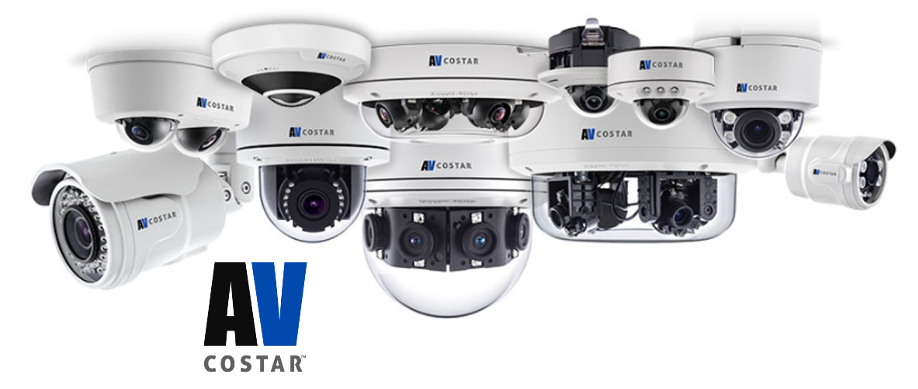 The ConteraIP family already includes single-sensor ConteraIP Indoor Dome and award-winning indoor/outdoor Micro Bullet, Bullet, and standard Outdoor Dome models. EX series Bullet and Dome models complete the ConteraIP lineup, offering choice of standard and optional advanced analytics. With the addition of these newest megapixel models, the ConteraIP series covers an even wider range of surveillance system needs.
Existing ConteraIP models include the compact single sensor 360-degree Fisheye Panoramic with built-in microphone, plus two award-winning multi-sensor cameras: the 4-sensor 180-degree Panoramic with integrated IR and the previously discussed Omni LX Remote Setup.
***
So for once we think copying the technology pioneer and industry leader to build new products is a good thing… when our customers are the ones who benefit by adding the next generation of our own technology to the mix.