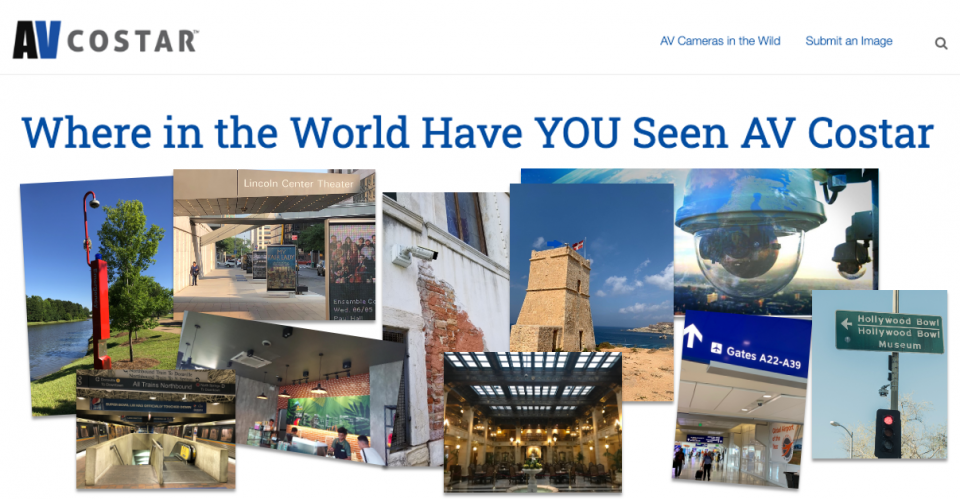 Over a thousand images of AV Costar (AVC) cameras in use at customer installations can be easily viewed from the Where in the World Have YOU Seen AVC (WITW) media library.  These installation photos are often useful as examples of typical surveillance camera installations and real-world layouts. They demonstrate first hand how customers in a wide variety of environments deploy their AVC cameras, and identifies typical uses in a wide range of vertical markets. Many customers and sales partners use the library on a regular basis for just those reasons.
Now WITW images are easier than ever to search and view. The media library interface has been completely updated, with an entirely new look.  You'll find the updated media library here.
No password or user ID is required to view and download any of the images.  And if you wish to upload your own images of AV Costar product installations, you can quickly register for a free ID on the media library; more on that in a minute.
For those who have used the site previously, the familiar rolling banner at the top of the media library page remains the same. The screen will display 10 randomly selected images one after another on a timer.  As before, you can reload the page to see an additional set of ten images as many times as you wish, and are also able to move from one image to another using the navigation arrows.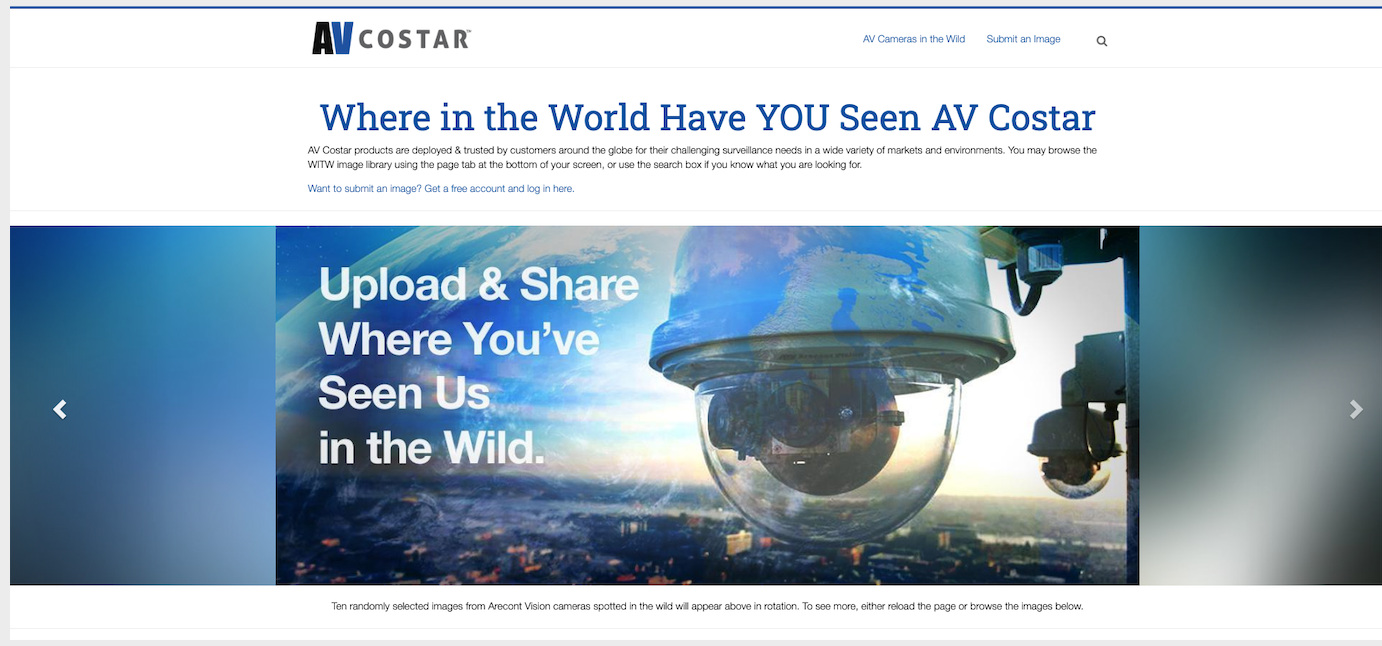 ABOVE: Rotating banner with 10 images is displayed at top of all WITW media library pages.  The navigation arrows are visible on the left and right sides of the screen controlling forward and backward movement.
Below the rotating banner are the first of the WITW images themselves, now in a borderless layout for easier-than-ever viewing. These WITW images will typically vary from 10 to 20 per page, depending upon individual image size. There are 43 pages of WITW images in total as of today.  Click on any image on the page to expand into a larger view and get more details on the camera type(s) and location.
As you roll through each page (it will continuously add images as you move downward) you can use the navigation tab in the bottom center of any of the media library pages to go to a specific page. The navigation tab will show which page you are currently on.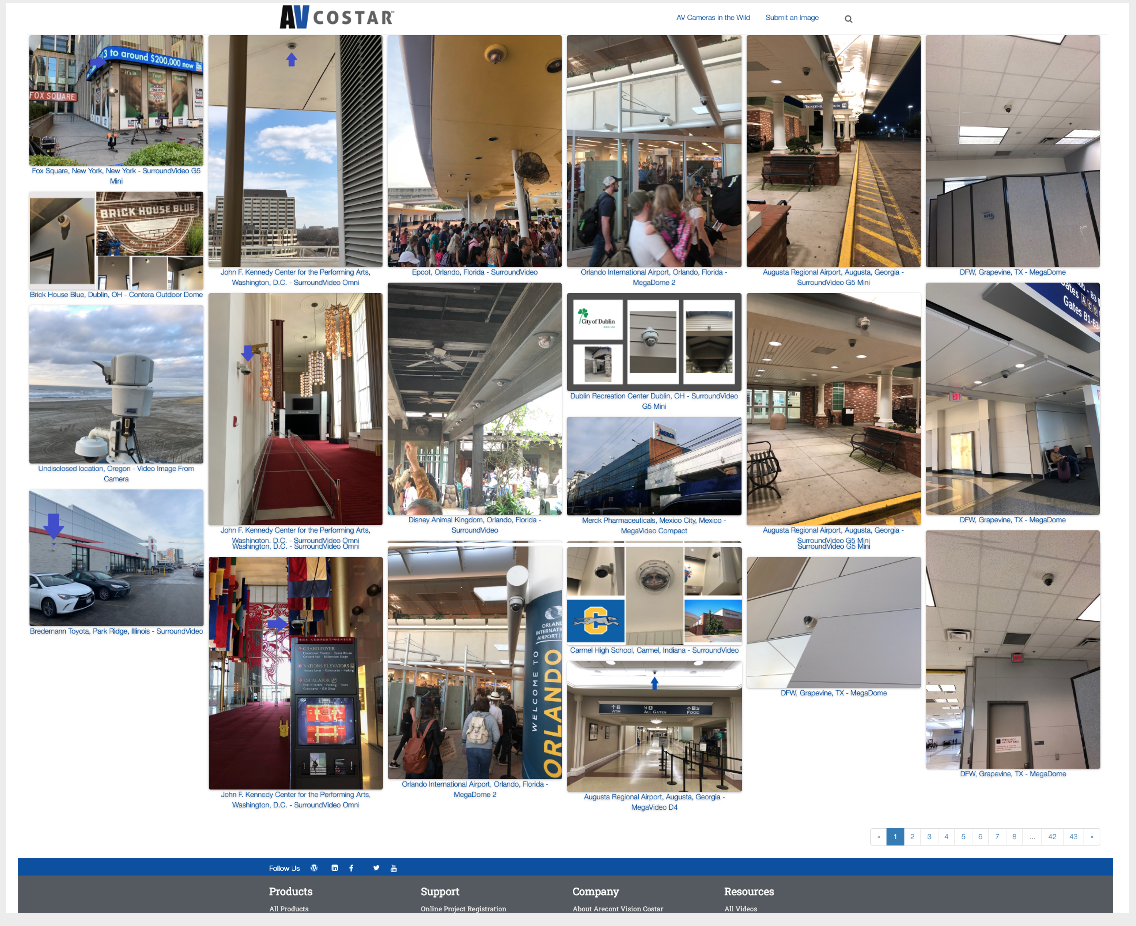 ABOVE: View of a general page from the WITW media library. Images appear by default in order of being added to the library, with newest first and older ones found on subsequent pages.
Best of all for anyone familiar with the previous version of the WITW media library, the image search function has been greatly enhanced. Click on the search icon (a magnifying glass near the top of the page), enter your search term in the data entry box, and hit enter.  The images will immediately being to load, depending upon your connection speed.
You can search for images by specific location such as a city, a business name or organization type, or function such as "ATM", "hotel", "stadium", "school", or "parking".  You can also search by camera model such as "Omni" or installation type such as "wall mount", etc.  Text in the location, camera model, and comment sections will be searched for matches, with the results appearing on the page.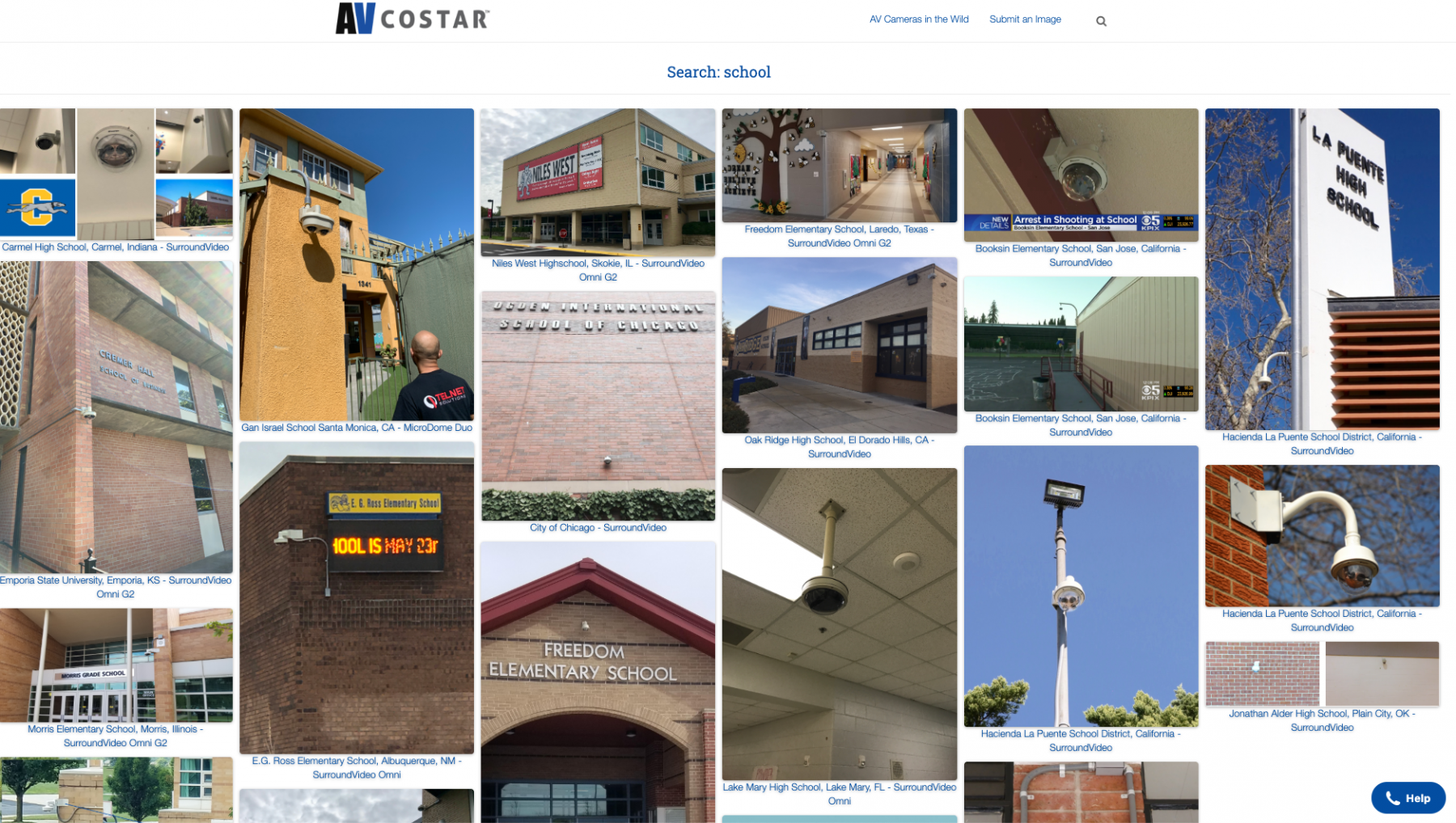 ABOVE: Extract from the first of several page of results when entering search term "school". 
We're sure that you've seen AV Costar cameras installed where you live and work, in interesting locations or covering a variety of scenes indoors and out. Sending them in to be included in the WITW media library may help others, so don't hesitate to do so.
Sign up on the WITW media portal to get your ID and upload as many images any time you wish.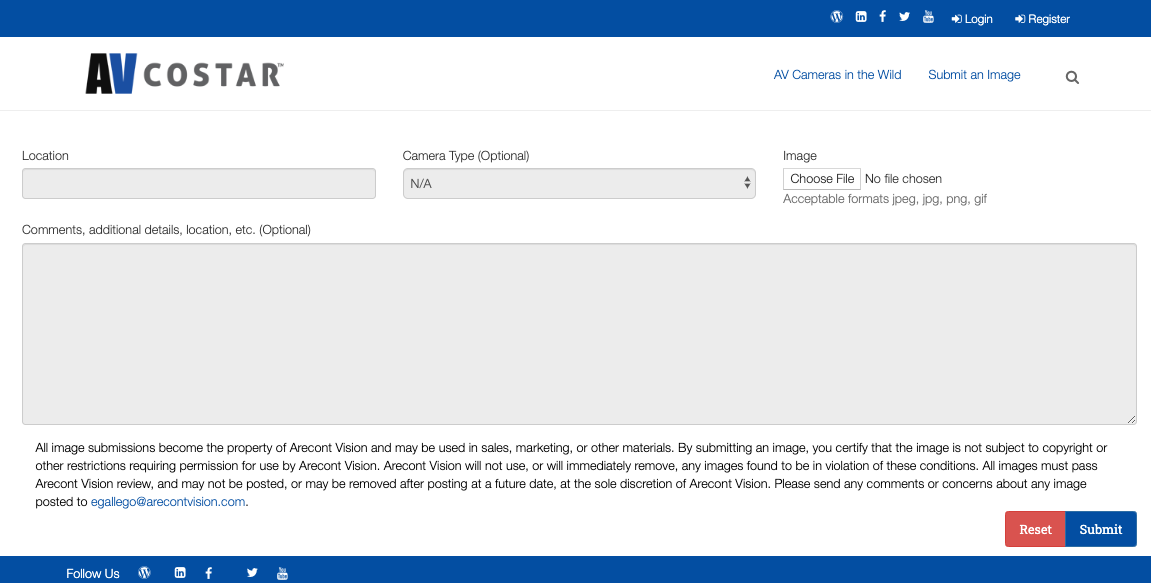 ABOVE: Image upload screen. Note that for automated security validation reasons, not all special characters are allowed in the Locations and Comments entry fields. These include icons and characters such as "-", "@", "*", and others.
Terms of use are listed on the upload page, mostly ensuring that the photos uploaded are freely visible and not of any restricted or non-public area without customer approval.
If you are unable to sign up for an ID but still want to submit Where in the World Have YOU Seen AVC images, as an alternative you can email them to [email protected].
After verfication of any images submitted, they'll be uploaded into the WITW image library and may even be used in our ongoing social media programs.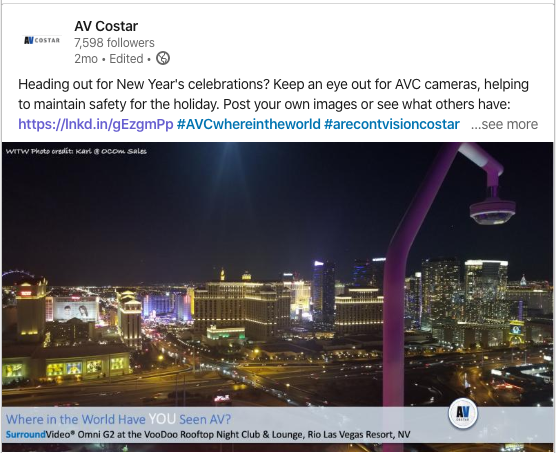 ABOVE: Example social media post from Las Vegas, NV media library image.
Keep watch on the Where in the World Have YOU Seen AVC media library for even more interesting images and locations.