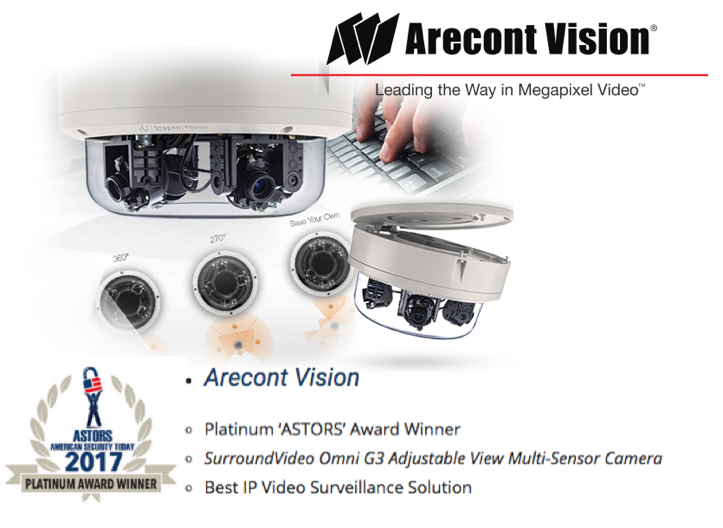 Los Angeles, CA (November 15, 2017) – Arecont Vision®, the industry leader in IP-based megapixel camera technology, has received another prestigious award for the customer-proven SurroundVideo® Omni omnidirectional multi-sensor surveillance camera series.  American Security Today honored Arecont Vision and the other 2017 'ASTORS' Homeland Security Award recipients at the ISC East conference and exhibition, held November 15 and 16, 2017 at the Javits Convention Center in Manhattan, New York.
Over 100 security professionals from across North America and the Middle East were honored at the ASTORS Homelands Awards Presentation Luncheon at ISC East.  Those attending the luncheon included representatives from the Department of Homeland Security, the Department of Justice, the Security Exchange Commission, state and municipal law enforcement agencies, and a wide range of leaders from across the security industry.  Top security products were also recognized at the event.
Arecont Vision received a Platinum Award for SurroundVideo Omni G3, named as the Best IP Video Surveillance Solution of 2017.  This is the latest industry award for the Omni G3, with other recognition coming earlier in the form of a 2017 Campus Safety BEST Award, a Security Today New Product of the Year Award, and a Security Today Government Security Award (GOVIES).
No other multi-sensor camera has received as much industry recognition and market success as has the SurroundVideo Omni family. This continues the megapixel leadership that Arecont Vision demonstrated when the company was the first to release multi-megapixel, multi-sensor panoramic 180/360 degree cameras in 2006 and the first adjustable view (omnidirectional) multi-sensor cameras in 2014.
Learn more about SurroundVideo Omni G3 and the other award-winning and customer-endorsed members of the Omni family at http://tinyurl.com/y72dyba3